We provide both personal support and systems. We help customers to manage each stage of their surveys and assessments, supporting them in gathering and using information.
Support and guidance is needed for survey and assessment success. 
Support is provided  by a dedicated 'you can say' account manager who is experienced in the design and use of questionnaires for surveys and assessments. Your account manager will participate at each stage of your project, beginning by learning about your objectives and guiding you in the use of the system.
Systems help you organise and communicate your data collection, analysis, and dissemination projects.
Systems enable planning and keeping records for each stage of all your survey and assessment projects. For each project data collection, reporting and communication can be configured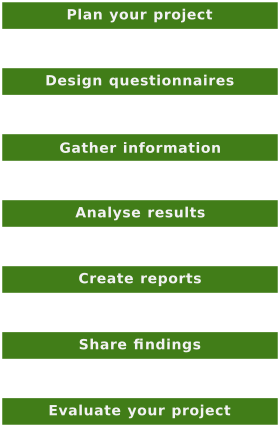 We will support you in the use of your control panel so that you can set up your project plan.
Working together with the support of specialists you will be able to design the questionnaire using the features that you need.
Using you control panel you will be able to arrange communications with colleagues about using the questionnaire and keeping everyone up to date with progress during data collection, and making the results available when it is complete
When you have your responses you will be able to access the analysis and reports that are created automatically. Additional analysis is available if required.
You will be able share your findings and encourage participation to set objectives for improvement and agree the actions that need to taken based on the results.
The control panel is the product of more than twenty years work in surveys assessments and consultations with thousands of people of varied age and ability. 
"Surveys are like musical instruments - When they are properly set up by an expert they sound good. In experienced hands they sound better."